Princess Diamond is the first
Magical Girl  that is reborn
in the humen world
Annamarie / Magical Girl Princess Diamond
Name
Annamarie Tury
Season
MGCA
Age
15
Hair Color
black( as Anna),Pink(as Princess Diamond)
Eye color
Brown(as Anna),Light Pink(as Princess Diamond)
Magical Girl Name
Magical Girl Princess Diamond
Race
Human(rebore from Angel Princess Diamond)
Relaships
Darlene(stepmother), Robert( father,deceased),

Cerlo(grandma), Robert Jr,Albert, Kennith(borthers),Lisa(mother),Tiffany,Trinity(sisters), Saint Michael(Past lover),Luis(carsh),jaiver(new Carsh)

Voice
Annamarie 
Personality
Edit
She is Cherrful and kind and same what shy
and is always there for her firends
Past Life
Edit
She was the princess of the northen part of Mechien.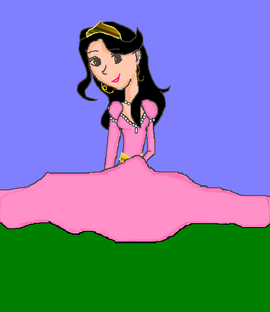 Love at frist sight
Edit
The frist time she seen the prince of the captlen of Mechien
She when to the young Prince  to meet him the two talk
Love Triagle
Edit
Love triagle with her and Prince Michael and his brother
Lucifer.
Relationships
Edit
Diane(princess Topaz) She goes to the same school as Anna does there in the same Class.
Deanna( Princess Sapphair) She also goes  to the same school as Diane and Anna
Elsa(Princess Garnet)  She goes to a parvite School for very Smart girls
Maria( Princess Ruby ) She goes to a all girls School
Michael Knight    He is the handsame angel that will help them out
Luis Melede(General Luisin' )  'is Anna carsh she Like alot by shy to tell him .
Sueane Buke   She is One of Anna bast Friends in school one of anna's Classmates.
Javier Melede  like to peck on anna alot
Lela Stouer Is Anna's Childhood Friend and one of the students in anna's school.
Community content is available under
CC-BY-SA
unless otherwise noted.